It's no secret we're in a time of uncertainty. With everything from paychecks to business hours up in the air, you can never have too many resources available. The Coronavirus (COVID-19) has hit our beloved Columbus hard, but that doesn't mean all hope is lost. Despite the recent closures of businesses from bars to yoga studios, you can find comfort in knowing companies are stepping up to help relieve you of financial stress.
Coronavirus and Unemployment Benefits
It always seems to be Ohio against the world. A pandemic is no different. In a recent announcement, Governor Mike DeWine mandated all bars and restaurants close. Not 24 hours later gyms, trampoline parks, the BMV, nursing homes, and other businesses were ordered to close. In light of the unemployment spike and Ohioans needing unemployment assistance, our state government has issued expanded coverage to those recently laid off and quarantined due to COVID-19.
How to Apply for COVID-19 Unemployment Benefits
According to Ohio Jobs & Family Services, there are two ways you can apply for unemployment if you're in need of assistance.
1. Online (recommended): Apply at any time by clicking this link.
2. Telephone: 1-877-644-6562.
What You'll Need When Applying for Unemployment:
Social Security number
Driver's license or state ID number
Name, address, telephone number, and email address
Name, address, telephone number, and dates of employment with each employer you worked for during the past 6 weeks of employment
The reason you became unemployed from each employer
Dependents' names, Social Security numbers, and dates of birth
If claiming dependents, your spouse's name, Social Security number, and birth date
If you are not a U.S. citizen or national, alien registration number and expiration date
Your regular occupation and job skills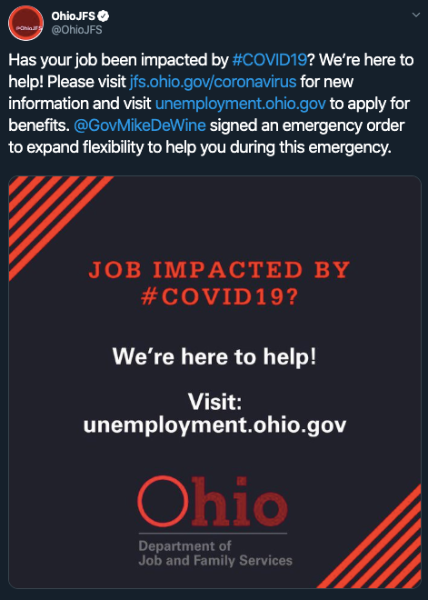 Also: If you had out-of-state employment, have worked for the federal government, or are separated from military service, more information is required, including:
Form DD-214, member 4 copy (for military service)
SF-8 or SF-50 form (for federal government employment)
Columbus Utility Company Payments
If you're already a resident of The Charles, you're familiar with the utility providers, Columbia Gas and American Electric Power (AEP). These city utility providers like are making their own shifts to provide comfort during the crisis and suspending shut-offs for nonpayment.
On their Facebook page, AEP highlights that in addition to suspending shut-offs, they do not anticipate their services being disrupted. Columbia Gas mentions that their suspension extends to residential, commercial, and industrial customers.
Financial Support for Food and Paying Rent
With so many Columbus workers out of a job, The Columbus City Council introduced a $1M fund to help local families in terms of buying food and paying housing costs. The fund serves as the first step in a bigger project to help our community make it through these hard times. While we still have a long way to go, coming together is the best way to practice community.
[UPDATED MARCH 17] United Way Worldwide is also offering help through its COVID-19 Community Response and Recovery Fund. A press release states, "Donations from the fund will help the most vulnerable populations receive critical financial and social service support during this global crisis." Those in need are encouraged to call 1-866-211-9966 and confirm your zip code for a verified list of local agencies to assist with bills (including rent) and food.
Apartment Hunting During a Pandemic
Technology is a ginormous perk if you're still in the market to relocate within or to the Columbus area. Our Leasing Professionals are readily available to schedule your tour and offer safe viewing options in helping find your dream apartment. This includes Facetiming, virtual tours, and providing extra materials you may need in narrowing down your search.
« Back to Blog