Will companies like UPS, FedEx, and Amazon deliver packages to your apartment?
The short answer is yes, however, there are a few protocols you should follow to make sure your next online shopping spree makes it to your door in a timely manner.
What to Know About Getting Packages Delivered to Your Apartment


How Does Package Delivery Work When Living in an Apartment?
Just like living outside of an apartment complex, package delivery living in a complex has a set of guidelines. You can find a copy of The Charles package delivery process in your lease or use this blog as a reference.
1. Where Your Package is Being Delivered
Details matter when it comes to having your package delivered to your apartment's door. Make sure you have the exact address, down to your door letter, in the shipping address you provide. Here at The Charles, there are a few places that residents may have packages delivered. Depending on your preference, you can choose from the following:

Package delivered to your front door

Package delivered to our Welcome Center (pictured left)
Not sure where the Welcome Center is? You'll find it at our main gate to the property. Manned 24/7, you can pick up your packages at any time! Be sure to bring a valid ID.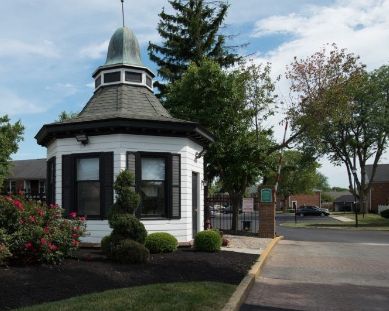 2. How to Enter Your Preferred Delivery Address Correctly
If you're choosing to have your package delivered to your apartment, remember to fill out all the information correctly. Follow this example:
Address Line 1: 2670 Travis Road
Address Line 2: Apartment M
City: Columbus
State: OH
Zip: 43209
Before confirming your online purchase, double-check your information!
Sometimes, delivery companies will not deliver to your apartment if no one is home to receive the package. In the slight chance, you think no one may be home come the delivery day, use the special comments area when placing your order and indicate you'd like your package left at our Welcome Center. There is no specific address for this building which is why you'll need to use the comment area to indicate your preference.
3. Welcome Center Package Pickup
No matter if you've ordered something small or large, our Welcome Center is still an option for package delivery. When your package is delivered to the Welcome Center, you'll receive a text from us letting you know it's here and further pickup instructions.
There's always a good time to make an online purchase. Don't forget the package delivery options you have as a member of The Charles Community! It's important you use as much detail as possible when filling out the shipment address, including your apartment letter like in our example above. Should you decide to utilize the Welcome Center to receive your package add that in the special comments area of your order.
Following these tips will ensure your apartment package delivery goes seamlessly!
« Back to Blog